Resume Writing for the Experienced Professional
Tips for Resume Writing for the Experienced Professionals:
Identification / Heading
Every resume starts with personal contact information. The heading needs to include your full name, mailing address, contact number, and email. Do not forget, that an employer might call at any time, so make sure to register a phone number where you can be reached. If you record your cell phone number, tag it as a mobile number and record a suitable voicemail greeting.
For example:
Jennifer Holland
Jennifer.holand@hotmail.com, Mob: +41 489255768, 5678, Address: Winter Park, FL 56789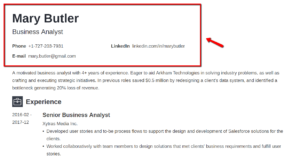 Objective or Summary
A career objective will assist you to develop a concentrated and targeted resume- and can assist you to ascertain what to incorporate into the rest of the resume. Do remember that the objective takes account of the position or at least the area of the industry segment to which you are applying.
Experienced professionals who are preparing and planning to make a career change or are applying for different positions with greater accountability might find an objective or profile summary section to be effective. In case you're attending a career/job fair where you intend to circulate your resume to different types of employers or if you are simultaneously applying for several positions within a single organisation, then it is preferable to have a narrowed down and targeted objective.
Example:
Examples of how to explain to the reader about the kind of position you are looking for.
Objective, Example 1:
A financial advisor utilizing strategic, analytical along with interpersonal communication skills.
Objective, Example 2:
A talent acquisition expert utilizing academic knowledge of employment laws, skills in conflict resolution, and background in customer service.
A profile can take account of areas of utmost expertise, primary skills, and a declaration of career goals.
For example,
Human resources expert with 5 years of experience and detailed knowledge of employee benefits counting defined contribution, health and welfare, and pension plans; looking for mid-level position in compensation management.
Education
In quite a lot of resumes, the education segment goes right below the objective, before listing any kind of work experience. Nevertheless, if you are an experienced professional who has gained many years of experience since the time of getting a degree; it might be worthwhile to present the details of academic qualification after your pertinent and well-timed work experience. The items counted in the education segment are the name of the school/institution, degree earned, details of Honours/majors/minors, and duration of the course (or anticipated date of completion of the course if you are still pursuing the course). Details of High school information are not looked-for on a resume of a graduate candidate, until and unless it would purposely help you get an internship or job.
An example of how to construct the education segment of a resume writing for the experienced professional is mentioned below:
University of Northampton, Northampton, Sep 2020-2022
Bachelor of Arts in Elementary Education
GPA:3.8
Completed coursework for ESOL endorsement
Module Description:
Elementary Education
Contemporary society
Childhood and the development of children
Leadership and change
Diversity and education
Fine Arts and Education
Experience
This segment of the resume is extremely important to the hiring managers of organisations.  Experience might take in full-time/part-time/internship/volunteer work details. In each of these categories of positions, make certain that all the details are related to the name of the organisation, employment duration, location, and description of roles and responsibilities or special accomplishments.
At the time of registering experience details in the resume, maintain a reverse chronological order, beginning with your most recent job experience and then working backward.
In case a candidate has a relevant experience of working in the same sector (or area of work) in the past but has a current job experience not related to the field now, then they might think about dividing this experience segment into two different parts- "relevant work experience" and "Other Work Experience". This way, it will help the applicant to showcase the pertinent experience closer to the top of the resume, and other experience later on the following page under the heading "other work experience". The descriptions of the responsibilities undertaken in each role mentioned in bullet points are extremely important.  These points need to aptly explain your duties, undertakings, and noteworthy accomplishments (if any). Each bulleted/numbered list should be one line or a maximum of two lines long and as precise as possible.
An effective resume for experienced professionals needs to include a range of action verbs that can assist in explaining your duties and responsibilities. If you are operating at the position presently, you need to use present tense verbs (coordinate, come about, start, develop, order, arrange, write). If you no longer work for the establishment, then you can describe the accountabilities in the past tense (wrote, developed, organized, co-ordinated).
Applicants can try to use personal pronouns, for example, "I"/"me" on their resume, and avert making a personal judgment for example "learned a lot through this experience," or "developed strong negotiation skills". Instead, you can discuss what you did using a variety of action verbs and allow employers to evaluate themselves.
An example that illustrates how to format the experience segment of a resume writing for the experienced professional:
Hewitt Associates
Customer Service Representative
Florida, August 2018 – May 2021
Responsibilities:
Maintaining a positive, empathetic, and professional attitude toward customers at all times.
Responding promptly to customer inquiries.
Communicating with customers through various channels.
Acknowledging and resolving customer complaints.
Knowing our products inside and out so that you can answer questions.
Processing orders, forms, applications, and requests.
Keeping records of customer interactions, transactions, comments, and complaints.
Communicating and coordinating with colleagues as necessary.
Providing feedback on the efficiency of the customer service process.
Managing a team of junior customer service representatives.
Ensure customer satisfaction and provide professional customer support.
Community Engagement
After recording your work experiences, you may describe your additional activities. This segment is the most significant for recent graduates who might have just restricted work experience thus far; however, an experienced professional might also find it helpful. This category permits you to summarize the roles in different organisations, community projects, civic societies, or professional associations, and to deliver any specific information that may help in demonstrating your qualifications to an employer. For instance, if an applicant applies for a position at the courthouse, then your experience of serving on a judicial board will be extremely important that need to be incorporated into this segment of the resume.
The title of this segment would be different, contingent upon the type of actions you select to register. Probable recommendations are "volunteer experience", "community involvements", "leadership experience" and others.
It is important to remember that the resume of an applicant needs to concentrate on pertinent work experience, then they might have to restrict the number of extra-curricular items that they add-in.  It is essential to select the ones which are the latest, pertinent and professional- the ones that can describe the skills/competencies and abilities.
When registering actions, applicants need to include the name of the business establishments, the location, title/position if doable, and dates of association.
Skills
Technology has an important to play in the majority of the career avenues, therefore, it is strongly suggested that applicants include their computer skills on their resume. You might also register specific skills related to the current job interests, for instance, foreign languages or research. If there are any distinctive certifications or pieces of training associated with the current field, you may wish to take account of that information at this point.
For instance, Skills to include in a resume writing for the experienced professional
Computer Skills: HRIS; PeopleSoft; ADP; Ceridian; Total Benefit Administration (TBA); Microsoft Word, Excel and PowerPoint; Lotus Notes
Languages Known: Proficient in Spanish, French, and German (Reading, Writing, and Speaking)
Other: Professional in Human Resources (PHR) Certification
References
It is not always essential to include references on your resume. The majority of the employers prefer that applicants do not waste valuable space in their resume with a statement that says "References available upon request." The reality is, that references need to be available if the business establishment or hiring manager asks for one- on a separate paper. For the references, it is necessary to include the name, and contact details of 2 to 4 references. A proper reference is the one who knows the applicant fully and has supervised and overseen their work in a workplace or academic setting or volunteer group. Certainly, close friends and family members are not regarded as reliable references. You can consider professors/faculty members/coordinators from your academic institutions, internship supervisors, or any present or former employers as credible references.
Proofread, and Edit (A must in a resume writing for the experienced professional)
It is a fact that the majority of employers will accept loads of resumes for their vacant positions. Business establishments offering internships will also receive heaps of resumes from interested candidates. Under such circumstances, it is extremely unprofessional to send a resume with spelling, grammatical or syntax errors and it can severely hurt your possibility of selection.  Therefore, it is recommended to first create a draft of your resume, proofread the same, take ample time to edit it, add or delete points wherever necessary, and rectify the identified mistakes.
Stunited will keep you updated with all information of students' news through different media platform.
Follow us on LinkedIn, Facebook, and Twitter for regular updates. Our community shares news to help the student & empower the society. Get internship CV from https://www.stunitedjobs.org/cv-templates
Know more about UK internship interviews here. https://stunitednewsfeed.org/sample-interview-questions-for-uk-students-in-2022/.
To learn more about blogging, check "10 Common Blogging Mistakes that can be avoided" from Stunited News Feed
To connect, share ideas, ask for suggestions, discover opportunities and get paid after solution for your higher education, sign up for Stunited.org
JOIN – Stunited.org, a dedicated social media for #higher #education #career
For career guidance, and for direct consultation with professionals,
Contact us
Phone:01604328800
Email:hr@stunitedjobs.org
#resumetipsforexperiencedprofessionals #resumewritingtipsforexperiencedprofessionals #resumewritingforexperiencedprofessionals     #cvwritingtipsforexperiencedprofessionals #cvtipsforexperiencedprofessionals       #tipsforwritingresumeforexperiencedprofessionals       #UKJobs #Stunited #Stunited.org #StunitedNewsfeed #StunitedJobs #Hiring #HiringNow #StudentJobs